How do we equip students to solve wicked problems?
Integrative Thinking is a mindset, methodology, and pedagogy for problem solving. It equips learners with the capacity to explore difficult and often conflicting ideas. It also provides learners with strategies, tools, and processes to generate creative resolutions to tensions in the form of new and innovative ideas.
Integrative Thinking Toolbox
The Integrative Thinking toolbox offers students tools to be creative problem solvers. We use the Integrative Thinking problem solving process as a framework to support student collaboration to create better models. The steps of the process are:
Articulating Opposing Models:
In this step we seek to understand what works about each of the opposing models by looking at the benefits of each model from different stakeholder perspectives. Students have named this the "Pro-Pro" chart.
Examine the Models:
Here we make sense of the benefits and gain insights that can move us forward in solving the problem. We ask questions and challenge assumptions as we purposefully experience the tension between the opposing models.
Explore the Possibilities:
We move from understanding our existing models to imagining several new, integrative possibilities to the challenge. We leverage the tools of designing thinking, such as ideation and prototyping to build out the solutions.
Assessing the Prototypes:
We must understand the conditions that would have to exist for our solutions to thrive. We ask "What would have to be true?" from the perspective of the multiple stakeholders to enable the possible prototype.
Ladder of Inference:
a framework developed by Professor Emeritus at Harvard Business School Chris Argyris. The Ladder of Inference helps make explicit our own models and the models of others. Our goal is to think about our thinking to build our skill of cognitive flexibility.
Causal Model:
inspired by systems thinking. Causal models make our models explicit by visualizing them using cause-and-effect logic.
Resource to support Integrative Thinking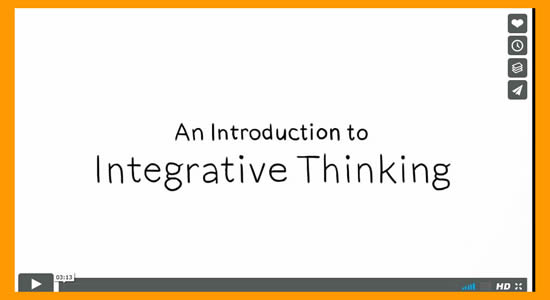 Overview of Integrative Thinking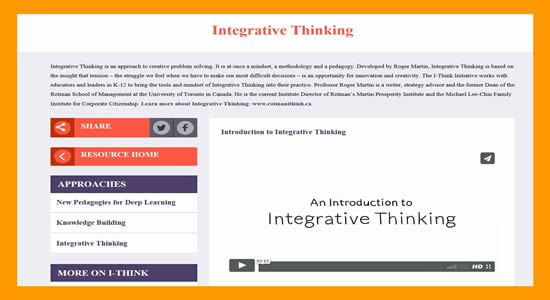 Intergrative Thinking on The Learning Exchange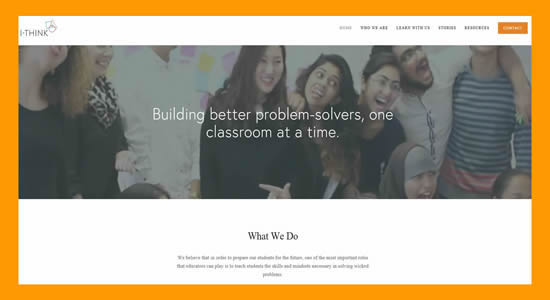 Rotman I-THINK
Explore Intergrative Thinking with examples and resources
Videos of Integrative Thinking in classrooms
Educator stories of Integrative Thinking
Leader stories of Integrative Thinking
Integrative Thinking:Creating better Solutions by Nogah Kornberg
---
What is Design Thinking
Design Thinking
Design Thinking is a mindset and approach to learning, collaboration, and problem solving. In practice, the design process is a structured framework for identifying challenges, gathering information, generating potential solutions, refining ideas, and testing solutions. Design Thinking can be flexibly implemented; serving equally well as a framework for a course design or a roadmap for an activity or group project. (from Teaching and Learning LabHarvard Graduate School of Education)
Knowledge Building Resources
Stanford —
d.school
IDEO — '
Design Thinking for Educators
' and the Design ThinkingToolkit Business Innovation Factory —
'Teachers Design for Education
' and the TD4Ed Curriculum Research — Design Thinking in Pedagogy — Luka, Ineta (2014). Design Thinking in Pedagogy. Journal of Education Culture and Society, No. 2, 63-74.